We recieve constant updates about available rescues from across the United States. If you are interested in a wonderful Irish Setter rescue, please read the note below. Do not be daunted by the paper work. This merely insures that you and any potential rescue are a good match. Feel free to email us by clicking on
Contact Us
. Scroll below to see if we have any rescues available and to see rescues we have placed in the past.
Note: We follow Irish Setter Club of America guidelines when placing rescues which requires filling out a form. To obtain the form, click on
Contact Us
and request an adoption form. Please read and educate yourself about what it takes to own and keep this special breed of dog happy and healthy by clicking here
http://www.irishsetterclub.org/breed_information.html
. If you believe that Irish Setters are for you, request an adoption form, fill it out, and email it following the instructions on the form. If the dog is listed on my web site, please send me a copy of the form as well.
Below are a few Irish Setters we have rescued and placed in forever homes.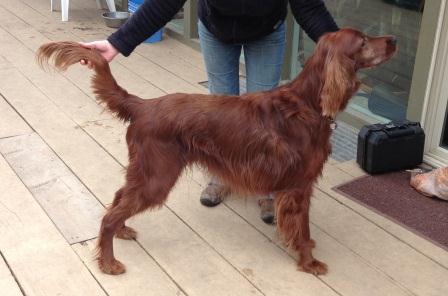 Fred Adopted as of 4/16/2014.
Fred is a loving and well cared for Irish Setter. We estimate his age at 3 to 6 years. Whoever owned him in the past kept his teeth clean and his coat free of mats. They also loved him and showered him with affection which is evident in his behavior. Unfortunately, they did not train him at all. Over the course of two weeks he is learning to sit, lay, stay, and crate. He has crate and sit mastered and is not too bad with stay and lay. He is also learning recall when off leash. The hardest thing to teach him so far is "off". Whoever owned him before allowed him to rise on his hind feet and put his forelegs on someone's shoulders then gently kiss the person's chin. This does not work for me as I usually have a dress shirt and tie on. Fred is neutered. If interested in Fred, or other adoptable Irish Setters we may come across, click on
Contact Us
.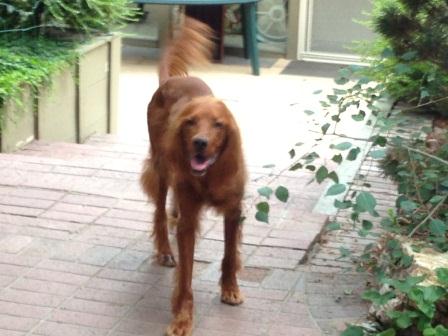 Fiona
July 11, 2013: Fiona is about 3 years old, spayed and in great health. She is good with other dogs, adults and children. She loves to be with her human pack She is house broken, stays off furniture and very obedient. She is well groomed and likes baths and brushing. Her teeth are very clean and she is current on shots.
Update August 10, 2013: Fiona has been placed with a wonderful family in Farmington, UT. Unfortunately, before placing her in her new home, she was bitten 3 times by a rattle snake in our back yard. Fortunately, she survived just fine and her new family loves her all the more for it. We get regular pictures of her in her new home. She is a very happy girl.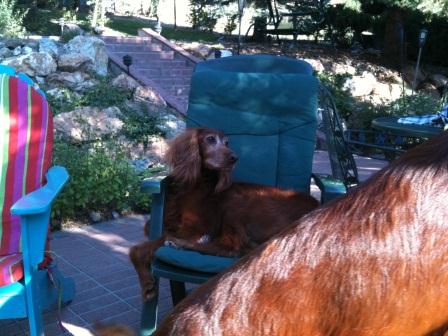 Amithist "Ami"
Ami was rescued from a divorcing couple at age 9 and successfully placed in Sept. 2011. Ami is one of the sweetest Irish we have ever rescued. She imediately bonded with her new forever family. We had a hard time deciding between a number of families that wanted her. We ultimately placed her with an older gentleman and his wife since she is less active than most Irish Setters.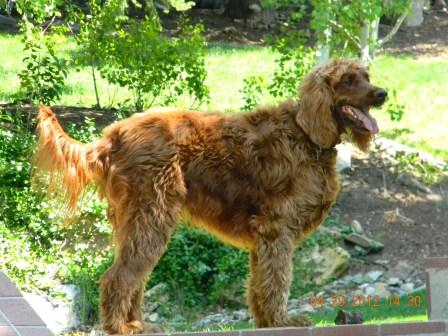 Redfire Rio
Rio was rescued from a couple that could no longer keep him and we successfully placed him in December of 2011. He has another Irish Setter to play with in his new home and his new family dearly loves him. He turned 6 in May 2013, and celebrated his birthday with his brother and littermate Cal and three other Irish Setters.